u-heからソフトシンセのクリスマス・プレゼント『Podolski』&ACE/Diva/Zebra2などβ版一挙公開! [Win/Mac]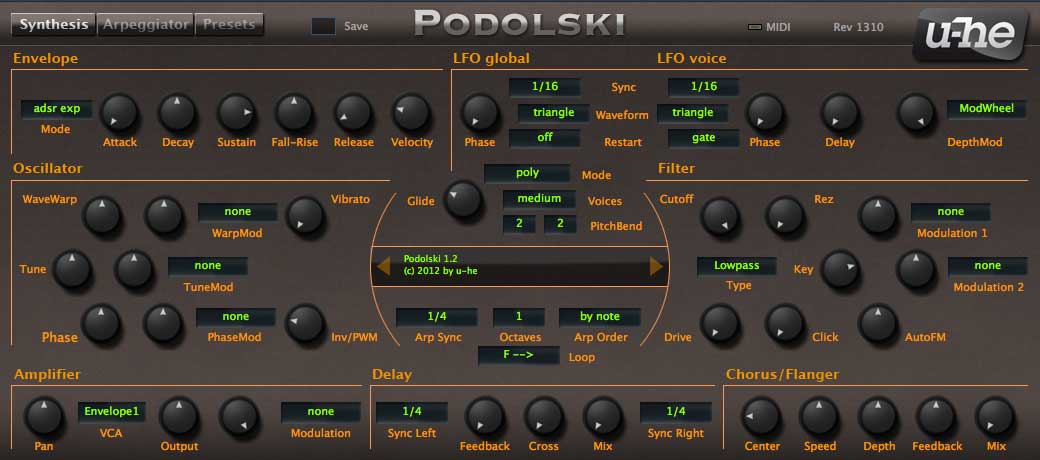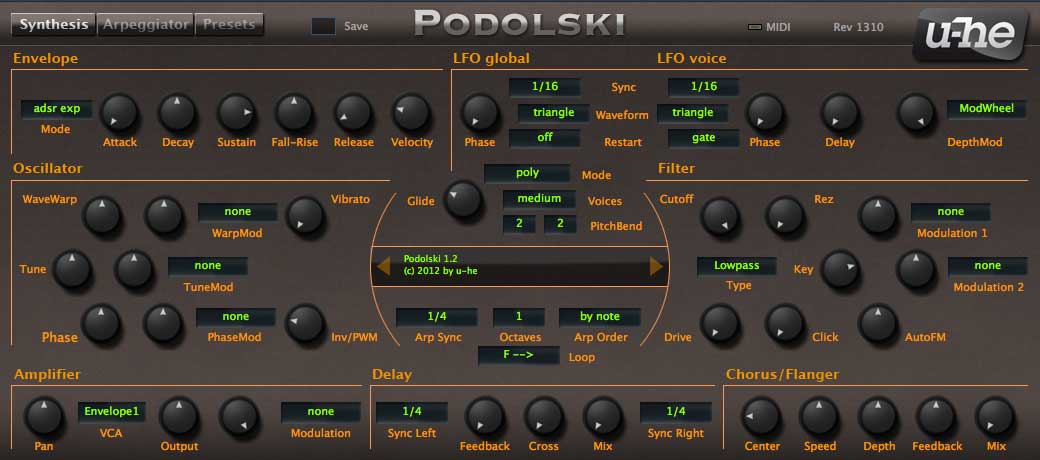 u-he has released a refurbished version of Podolski. Originally published as magware, Podolski is now available for free.

Podolski is a simple, CPU-efficient virtual analogue synth. A cut down version of FilterscapeVA with just one oscillator, one filter, one envelope and two LFOs, it also features a Zebra-style arpeggiator/sequencer and chorus/delay effects.

Podolski's specialities are the Click parameter (emphasizes the filter attack) and its ability to seamlessly morph between three waveforms (WaveWarp).

The new version adds two new GUI skins, better support for MIDI, VST3 and 64-bit support, new presets by Howard Scarr and an English user guide among other improvements.
クリスマス・プレゼントの無料ダウンロードはこちらから
http://www.u-he.com/cms/podolski
一挙にベータ版公開
ACE, Bazille, Diva, Filterscape, MFM2, Triple Cheese, Uhbik, Zebra2
----- New features -----

All - VST2 64-bit for MacOS X!
All - VST3 support on MacOS X and Windows!
All - Improved installers on Win and Mac.
All - Loading of converted vst2 presets in .vstpreset format.
All - Added Revision numbers for simple version control (e.g. for support).
All - Horizontally scrolling preset selector added to all plugins with multi-column view.

Diva - Osc reset! Check Trimmers page for knobs to set the start phase of the oscs. (Trimmers page will be redesigned before final release)
Diva - Drift goes up to 200 now.

ACE - Multicore support!
ACE- Standby buttons for FX section. Enables preset switching with FX turned off.

Filterscape - Added PitchBend Down control.

ZebraCM - Added Pitchbend ranges.

----- Fixed -----

All - Crashes on preset change via drop down menu, fixed.
All - No u-he folder in Library/ApplicationSupport or Library/Audio/Presets did crash, fixed.
All - Hanging notes and missing notes, no more! Hopefully... :-)
All - VST2 presets didn't load correctly in preset browser, fixed.
All - Retriggering of voices was changed to the worse. This affected certain legato and arp situations. Fixed. 
All - Using a Wacom tablet gave problems with random erroneously right clicks, fixed. 
All - Reaper adds a buffer when playing a loop using a u-he synth. Workaround: A text file renamed to default.h2p put into the preset folder with !BLOCK_LATENCY_OFF=YES in it cures that problem. 
All - U-he AU Parameters weren't updated in Maschine on preset changes, fixed.
All - MidiLearn: Unlearning created an entry in the midiassign.txt, fixed.
All - AU, wrong formatting of text and other problems in the preset save dialog, fixed.
All - VST, GUI size was wrong under certain circumstances, fixed.
All - Portamento now takes stack-voice Detuning into account to calculate the pitch start position.
All - Glide not working properly for stacked voices, fixed.
All - Cocoa Namespace Collisions. It wasn't possible to mix AU and VST versions of one plugin in one project. Not all GUIs were shown. Fixed.
All - "Voice" modulator is now called "Stack Index".

Diva - Noise was too low when in Acc modes higher than draft and TuneMod was on, fixed.
Diva - Some faders were slighty misplaced on the GUI, fixed.
Diva - Switching Diva Offline Acc while in Realtime does not click anymore.
Diva - The Damp parameter in Diva's Plates doesn't turn the reverb off anymore when turned to max.

Zebra - "set current to default" didn't work on the upper page selectors, fixed. 

ACE - MIDI Program Changes "incomplete". Sometimes only a part of the preset was changes using a midi program change. Fixed.
ACE - Browser bug: Couldn't select the lowest patch if the horizontal slider was hidden. Fixed. 

Uhbik - Low level output was cut off at a to high level. Fixed. 
Uhbik - some Uhbiks did denormals since the 1.2 update. Sending audio, waiting a minute with no input and the CPU meter went up. Fixed. 

Filterscape - Sometimes it wasn't possible to choose Arp as Voice Mode. Fixed. 

and much, much more
ベータ版
http://www.kvraudio.com/forum/viewtopic.php?t=368443