iOSアプリに【Lemur】のMIDI / OSC コントローラー登場! 実機はダフトパンクやビョークなどライブで使用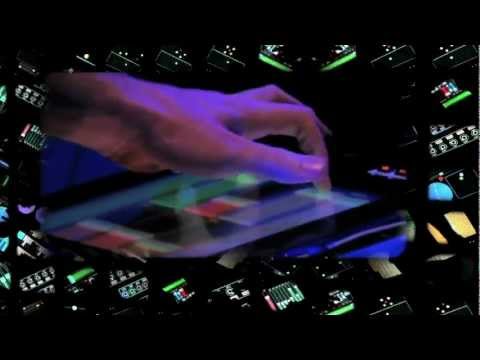 ただいま60%オフのセール中!12/4まで
Ver 5.3 アップデート
64-bit デバイス , Lightning USB ケーブル・サポート
価格: ¥3000→1,200円
PLATFORM FEATURES COMPARISON
| | | |
| --- | --- | --- |
| Feature | Lemur iOS | Lemur Android |
| MIDI over Wi-Fi | Yes | Yes |
| MIDI over cable | Yes (with hardware adapter) | Yes (with USB tethering) |
| OSC over Wi-Fi | Yes | Yes |
| OSC over cable | Yes (with USB tethering on cellular device) | Yes (with USB tethering) |
| Lemur Editor | Yes | Yes |
| In App Editor | Yes | No |
| Custom Resolutions | No | Yes |
| Canvas | Yes | Yes |
| Sequencer Objects | Yes | Yes |
2015 11/21 新機能
Lemur iOS updated to 5.3
Lemur iOS has been updated to support 64-bit devices and iOS 9. Lemur also now supports Lemur Editor and Lemur Daemon connections via the USB Sync cable (Mac only).
SQU4R-3
Twisted Tools and enigmatic Lemur guru Antonio Blanca present SQU4R-3, a beautiful and inspiring environment to quickly create variations of your sounds. Based on the new Canvas object, SQU4R-3 is a totally free download.
https://liine.net/en/products/lemur/premium/squ4r-3/
カスタマイズ方法
http://www.youtube.com/watch?v=igogyn7AH7s
新機能追加 ヴァージョン5.0アップデート
ダフトパンクのライブで使用している実機「Lemur」のiOSアプリが登場。
Daft Punk. Björk. Nine Inch Nails, Deadmau5. M.I.A., Justice, Hot Chip, Ryuichi Sakamoto, Orbital, Richie Hawtin, The Glitch Mob, Matthew Herbert, Joris Voorn, Stephan Bodzin, Modeselektor, Alva Noto, Richard Devine, Gui Boratto
iPad 4台
DJソフト、ライブ、電子音楽のパフォーマンスのソフトウェア、DAW、VJソフトウェア、ヴィッジュアルシンセ、舞台照明などをiPhoneやiPadでコントロールできる。
Wi-Fi MIDI or OSC と USB MIDI (CoreMIDI)での接続 (マニュアルPDF参照)
Lemur can control DJ software, live electronic music performance software, studio production software (DAWs), VJ software, visual synthesis software, stage lighting and more
公式ホームページ / マニュアルPDF
http://liine.net/en/products/lemur/
膨大なユーザライブラリ
http://liine.net/en/community/user-library/
設定方法やインストーラー
http://liine.net/en/support/lemur
Live Control2
http://liine.net/en/products/lemur/premium/livecontrol-2/
iOS アプリ「Lemur」Ableton Live用の「Live Control」を「レッド・カスタム」配布
| | |
| --- | --- |
| | Lemur (Version 5.0) |
| カテゴリ: | ミュージック |
| 価格: | ¥3,000 |
| デベロッパ名: | Liine |
| リリース日: | 2011/12/07 |
| 現Ver.の平均評価: | (無し / 0件の評価) |
| 通算の平均評価: | (4.5 / 20件の評価) |
iPad スクリーンショット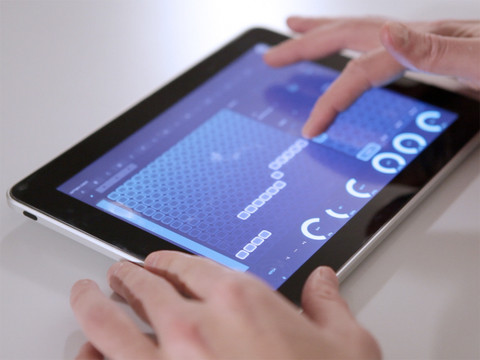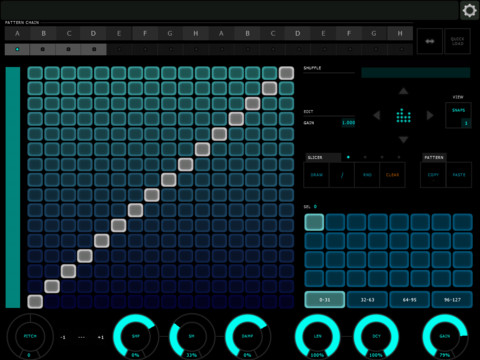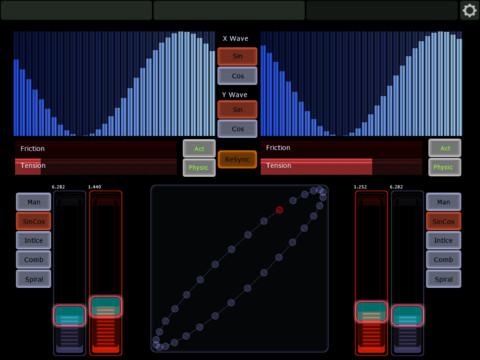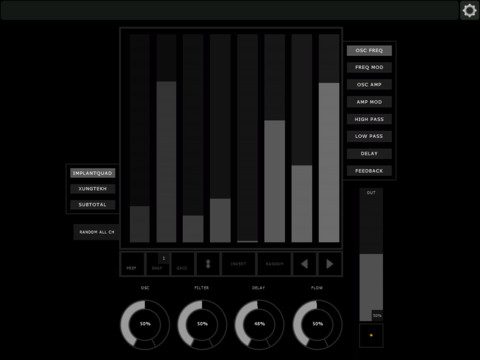 詳細

伝説のマルチタッチMIDI/OSCコントローラー、Lemurの復活です! Daft Punk、 Bjork、 Nine Inch Nails、 Deadmau5、 M.I.A.、 Justice、 Hot Chip、 坂本龍一、Orbital、Richie Hawtin、The Glitch Mob、Matthew Herbert、Joris Voorn、Stephan Bodzin、Modeselektor、Alva Noto、Richard Devine、Gui Boratto…数々のメジャーアーティストが選択してきました。間違いないと思いませんか?

岩のような安定感
Lemurは、スタジアムツアーをするようなメジャーアーティストが実際にステージで使用して来ました。さらに、オリジナルのハードウェアが登場した2004年以降、ソフトウェア部分は10年近くもの改良を重ねてきました。マルチタッチコントローラーと言えばLemurと言われる、数ある所以のほんの一部です。

あらゆるものをコントロール
Lemurは妥協のないプロフェッショナルなコントローラーiOSアプリです。まさに、あらゆるものを、自在にコントロールできます。完全なる柔軟性は、あなたの納得が行くまで深く掘り下げられることを意味します。LemurはDJソフトウェア、ライブパフォーマンス向け音楽ソフトウェア、DAWなどのスタジオプロダクション・ソフトウェア、VJソフトウェア、総合映像ソフトウェア、照明ソフトウェア、そしてさらに各種のソフトウェアをコントロールできます。平たくいえば、MIDIまたはOSCを受信できるソフトウェアは全てコントロール可能なのです。

ユーザーライブラリー
トップアーティストやコミュニティメンバーによるプロジェクトファイルが多数提供されています。ステージで実際に使用されたものから、スタジオ向けの作曲ツールまで幅広くあります。コミュニティに参加してシェアするのも良いですし、もちろん、必要なものをダウンロードするだけでも歓迎です。

仕様

—オブジェクト
フェーダー、マルチスライダー、レンジ、マルチボール、ノブ、リングエリア、スイッチ、パッド、カスタムボタン、コンテナ、ブレークポイント、LED、Lemurメニュー、モニター、シグナルスコープ、サーフィスLCD、テキスト

—物理学
学校では物理が嫌いでしたか? Lemurを使えば、大好きになります! Lemurオブジェクトの多くは、効果的かつ使いやすいモデルによって、物理学法則に従った挙動をとらせることが出来ます。これにより、コントローラーを弾ませ、跳ね返らせ、オシレートさせることが可能です。コントローラーに生命を吹き込めるのです。

—スクリプト機能
Lemurを使うためにスクリプトのノウハウを身に付ける必要はありません。しかし、苦労をしてでも掘り下げたいという方に向けて、強力なスクリプト機能を内蔵しています。スクリプト機能を活用すれば、さらにダイナミックなコントローラーを作成できます。

—エディタソフト
OS X/Windows両対応のプロジェクト作成ソフト、Lemur Editorが提供されています。ドラッグ&ドロップで、簡単なフェーダー群から複雑なリズムマシンまで難なく作れます。

ーコンピューター側の動作環境(Lemur EditorとLemur Daemon)
OS X(Intel)
Windows(XP SP3 または 7 を推奨)

—接続
Wi-Fi経由でiPad/iPhoneを簡単に接続できます! CoreMIDIにも対応していますので、Alesis iO DockやiConnectMIDI、USB-MIDIインターフェース(Camera Connection Kitを使用)などにも接続できます。1台のLemur(iPad)から、最大8台のコンピューターを操作することも出来ます!

---

説明

Lemur is the world's best MIDI/OSC controller for iOS. Benefiting from nearly 10 years of development, Lemur is synonymous with multitouch music control. All these major artists can't be wrong: Daft Punk. Björk, Plastikman, CHVRCHES, Glitch Mob, Sub Focus, Max Cooper, Barker & Baumecker, Orbital and many more.

** iPad Pro not currently supported **

Version 5.0 introduces the incredible new Canvas object and the Sequencer family of features with rock solid timing.

Canvas — Canvas is a brand new object that lets you script custom widgets with full multitouch support. The object is adapted from the HTML5 Canvas element, which means you can design widgets featuring complex shapes, animation, shadows, and transparency The Canvas object opens the door to a completely new Lemur experience, where the appearance and behaviour of objects can be designed to precisely match the demands of your project. Polygons, waveforms, circular objects and infinitely more are all possible with Canvas.

Sequencer — Lemur 5.0 introduces a family of new features for tight sequencing. This includes three new objects: StepNote, StepSwitch and StepSlider. Each of these provides a different flavour of sequencing and is ready to use right out of the box. The objects do the hard work for you, simply add them to your template and they are ready to control your MIDI instruments.

In App Editor — Design your templates on the fly, without a computer in sight. The In-App Editor, available on iPad only, makes multitouch control truly improvisatory by letting you shape your controller the same way you shape sounds. Virtually every function of the desktop editor application is now available through an intuitive system of iOS menus and widgets. Best of all – it's easier to use than ever. This means a much smaller learning curve and an immediate initial experience. Any basic configuration, such as a typical bank of faders, can now be created with a few familiar taps and gestures. And any factory template can be adjusted quickly to suit your particular needs.

Skins — Lemur features three new skins, in addition to the classic look. Choose the look that fits your style and get inspired.

LiveControl 2 — Experience the ultimate Ableton Live controller, designed in partnership with master designer ST8. Improvise a riff on the Play page, then switch to the Sequencer page to edit the pattern. Choose a key and scale to guide your melodies and use Quick Chord to instantly create harmonies. Use the Modulate page to flawlessly map any parameter from any plugin to the MultiBall object and take advantage of Physics, LFOs and gesture recording. The Launch page gives you everything you would expect from a clip launcher, and more. We even integrated snapshots and morphing.

REQUIREMENT (for the Lemur Daemon):

– OS X (Intel only) 10.5+

– Windows (XP SP3 or 7 recommended)

The In App Editor feature is accessible only on iPad devices.

CONNECTIVITY

Simply connect your iPad/iPhone to your laptop over Wi-Fi and make the connection! Lemur also supports CoreMIDI allowing you to use hardware interfaces such as Alesis' iO Dock or the iConnectMIDI or class-compliant USB MIDI interfaces (with a camera connection kit). You can even control up to 8 computers from one iPad with Lemur!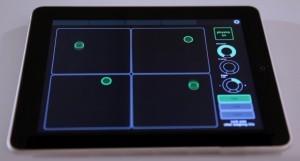 PHYSICS
Hated physics at school? Now you'll love it! The behaviour of many Lemur objects can be affected by powerful and easy to use physical models which can make your controller bounce, rebound and oscillate. Make your controller come alive.
What's more, you can even control the physics parameters of one object from another. This opens up the door to a wide range of modulation options, ready to control any piece of gear.
---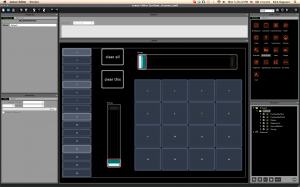 EDITOR
The Lemur is provided with Lemur Editor, a cross-platform (Mac/Win) interface builder. This software enables you to create and edit templates, as well as loading them to Lemur. The number of pages that can be included in a single project is limited only by your imagination.
In addition to the editing features, the Lemur Editor also provides a comprehensive hierarchical overview of your project. It also offers a full set of options to customize each object: dimension, shape, appearance, status and behavior. This is also where you can edit physics parameters.
---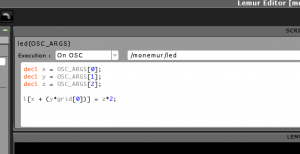 SCRIPTING
In the Lemur Editor, the multiline script panel opens up a whole new world of possibilities. You can modify the physical behaviour, appearance or size of an object in real time. Add a ball to a MultiBall object by touching a pad, zoom in on a fader for ultimate precision or modify a Text object content via MIDI or OSC. Use scripts to really tweak the response of your Lemur interface and make it feel like an extension of your body.
---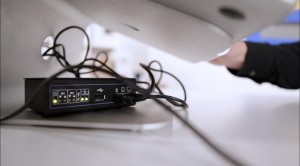 CONNECTIVITY
Lemur supports OSC and MIDI protocols over Wi-Fi. Lemur also supports CoreMIDI. You can use any standard MIDI interface through the Apple Camera Connection Kit, or an iOS specific audio interface such as iConnect MIDI. Lemur supports up to 8 different and simultaneous MIDI and OSC ports targets.