iPhone/iPad用アプリ オート・チューン (Auto-Tune)でケロケロ・ヴォイス『Auto-Tune iOS』登場!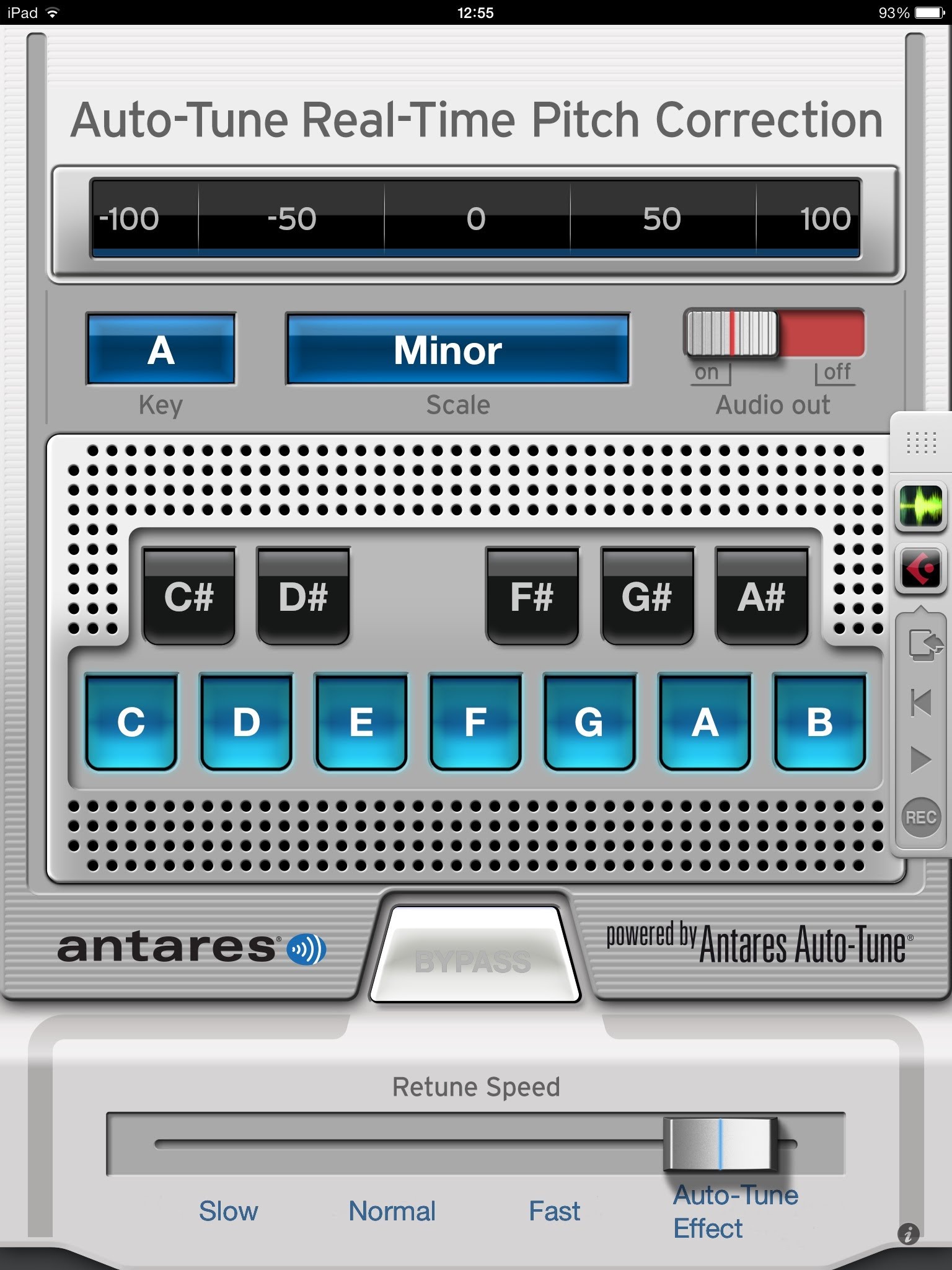 AutoTune EFX for iPad Powered by Antares…Demo and Tutorial
ついにiPhone/iPadでケロケロ・ヴォイス
オート・チューンが使える!
本家のAntares(アンタレス)ベース。おなじみのAuto-Tunes 7ではなくEFX。それでもすごい
| | |
| --- | --- |
| | Auto-Tune iOS (Version 1.2) |
| カテゴリ: | ミュージック |
| 価格: | ¥600 |
| デベロッパ名: | Susan Marvin |
| リリース日: | 2013/11/17 |
| 現Ver.の平均評価: | (無し / 0件の評価) |
| 通算の平均評価: | (無し / 0件の評価) |
iPadスクリーンショット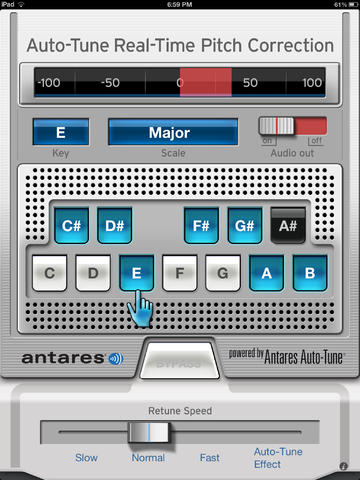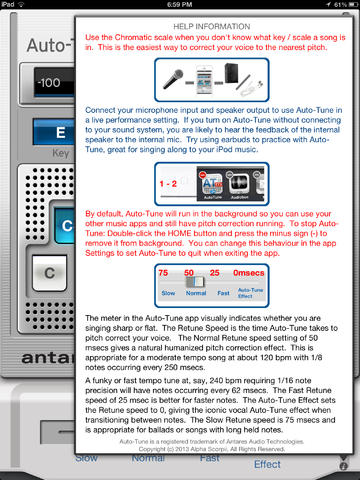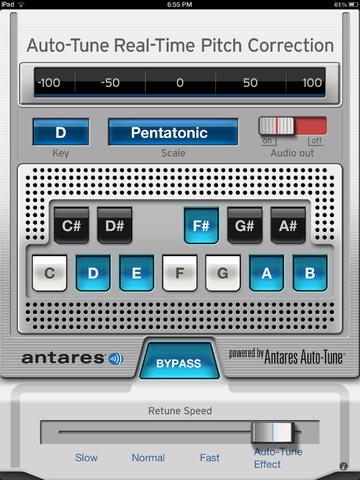 iPhoneスクリーンショット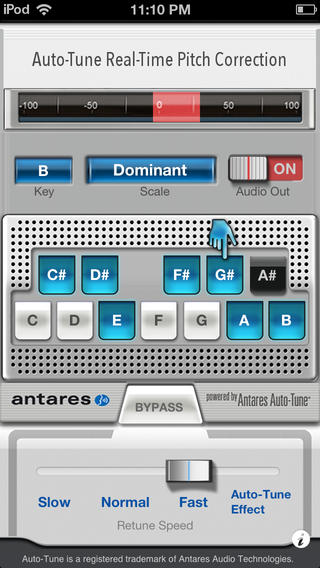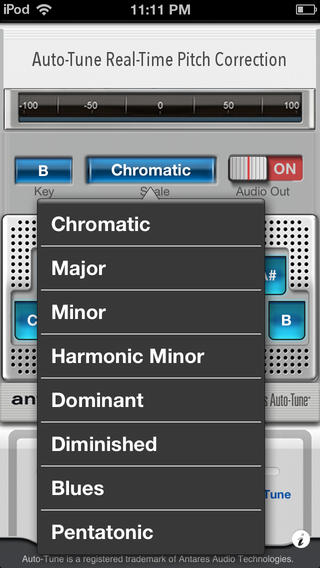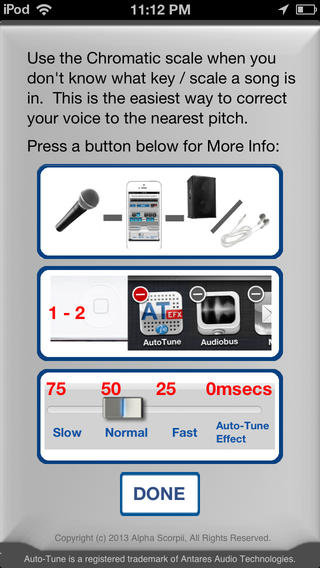 説明

Auto-Tune iOS brings vocal pitch correction to live performance, using Antares' world-class Auto-Tune® technology. Now Antares' professional pitch correction recording studio technology is available for local performers to use live, on stage, on your iPhone / iPad.

Connect Auto-Tune iOS to your sound system between your microphone and your P.A. / speakers to use Auto-Tune iOS in a live performance setting. Use a microphone audio interface device to connect the 1/8 inch jack to your microphone line and the headphone output to your sound system. Turn on Audio Out on the Auto-Tune iOS app to get audio to pass through the system. If you turn on Audio Out without connecting to your sound system, you are likely to hear the internal feedback of the internal speaker to the internal mic. Adjust your mic and speakers so there is no feedback.

Vocals are corrected to the nearest pitch based on the key and scale of the song, or to a set of melody notes selected on the screen. Use the Chromatic scale when you don't know what key or scale a song is in. This is the easiest way to correct your voice to the nearest pitch.

The meter visually indicates whether you are singing sharp or flat. The Retune speed is the time it takes for Auto-Tune to pitch correct your voice. The Normal Retune speed setting of 50 msecs gives a natural humanized pitch correction effect. This is appropriate for a moderate tempo song at about 120 bpm with eighth notes occurring every 250 msecs.

A funky or fast tempo tune, at say 240 bpm, requiring sixteenth note precision will have notes occurring every 62 msecs. The Fast Retune speed of 25 msecs is better for faster notes. For slow songs or ballads featuring long held notes, the Slow Retune speed of 75 msecs may provide a more natural sound.

In addition to natural sounding pitch correction, you can also apply the iconic Auto-Tune effect. This is done using the Retune Speed setting of 0. The Bypass button is provided as a quick way to stop and start adding the effect as you sing.

Auto-Tune iOS is Audiobus compatible, allowing Auto-Tune iOS to work with your other iOS music apps. Auto-Tune iOS acts as a filter in the "Effects" category, so you can apply pitch correction and the Auto-Tune effect to other Audiobus-compatible apps. (see http://audiob.us )

* Vocal real-time pitch correction designed for live performance
* Built with Antares Audio Technologies' Auto-Tune® professional pitch correction
* Tested with Tascam iXZ and IK Multimedia's iRig microphone audio interfaces.
* Made for musicians.