3D立体音響再生プレイヤー iPhone,iPadアプリ『Headquake』iTunes 85円→無料中
iTunesライブラリー 3D立体音響再生プレイヤー
ポジション・アンビエンンスを調整して聴けます。ヘッドホン推奨。
85円→無料中
| | |
| --- | --- |
| | Headquake (Version 1.4) |
| カテゴリ: | ミュージック |
| 価格: | ¥85→無料 |
| デベロッパ名: | sonic emotion |
| リリース日: | 2011/12/08 |
| 対応デバイス: | iPad Wi-Fi / iPad 2 Wi-Fi / iPad Wi-Fi+3G / iPhone 4 / iPod touch (3rd Gen) / iPhone 3GS / iPad 2 Wi-Fi+3G / iPod touch (4th Gen) |
| 現Ver.の平均評価: | (5.0 / 1件の評価) |
| 通算の平均評価: | (4.5 / 11件の評価) |
| Game Center: | 非対応 |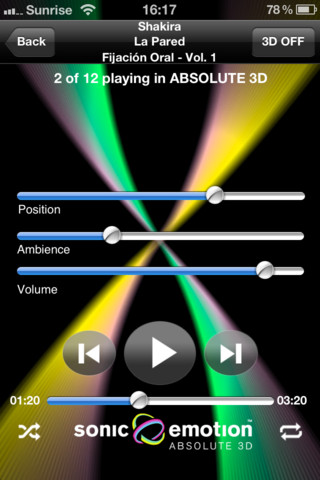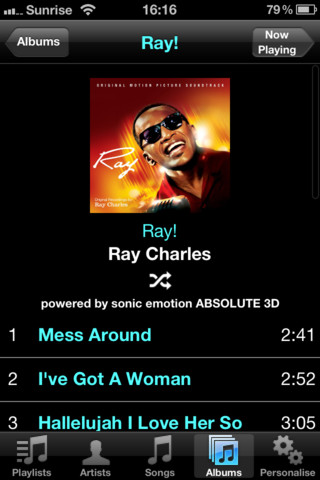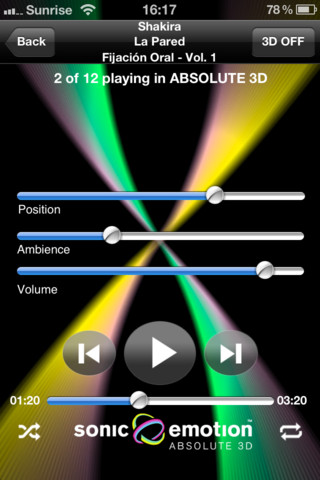 詳細

Headquake® by sonic emotion- the world's premier sound enhancement app out there that takes you to another dimension!

Compatible with iOS 6!

Listen to your iTunes library of music in a never before heard quality, that is personalized to your favorite type of headphones. You will listen to music as if you were there live and not wearing headphones!

Headquake is plug and play. The app will automatically sync your iTunes music so all you need to do is press play and enjoy!

Headquake is available with unlimited use free of charge for a limited time so be sure to download today and tell your friends! Your ears will love you for it!

The new Headquake app features include:

3D Sound: Be amazed with the ultimate 3D sound experience. Headquake easily converts flat narrow sounds to an enormous yet perfectly balanced 3D Sound experience surrounding your head – the way sounds should be heard. All music content formats that are supported by iTunes can be used.
NOTE: For the real Headquake experience, be sure to put your headphones on!

Ambience Transitions: Widen your music to its full capacity. Let yourself be in control of your own music from one track to the next – you decide.

Position Transitions: Gain even more control by positioning the sounds in your music tracks. Love the voice of your favourite artist? Position their voice to the front of the stage in the spotlight or place the voice in the back and let the cords take over – you decide!

Player Integration: You'll have access to an enhanced player that offers better visual player controls with fun sliding sound graphics to maximize your listening experience.

Content Selection: Your playable content will be optimized with your synced playlists, songs, artists, and albums just as seen as in your iTunes.

Seamless Integration: Headquake works directly with your iTunes playlist. You just have to download and press play to enjoy!

Personalized Headphones: We know your headphones are important to you. We let you match up to your headphone type and the sound quality will configure to your selection!

Recommended for iPhone 4, iPad 1 & 2 Generation, iPod Touch Fourth Generation.
Headquake Version 1 does not support iPhone 3GS, iPod Touch Third Generation, iPhone Next Generation & iPad Next Generations.