プロデューサー『Greg Wells』インタビュー 1時間 [アデル/ケイティ・ペリー/ワンリパブリック]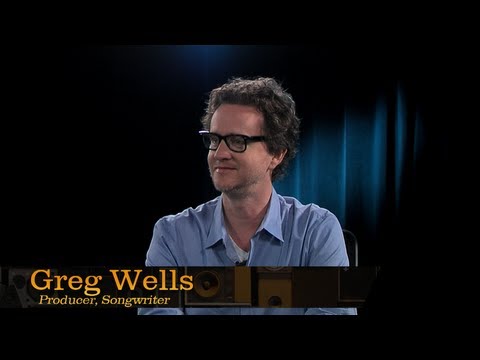 Pensado's Place #93 – Producer Greg Wells
 http://en.wikipedia.org/wiki/Greg_Wells

Greg Wells
Greg Wells

Greg Wells at Rocket Carousel Studio, Los Angeles.
Background information
Origin
Peterborough, Ontario, Canada
Genres
Rock, pop, classical, jazz
Occupations
Record producer, songwriter,musician, mix engineer
Instruments
Piano, Synthesizer, drums, guitar,bass, Hammond B3
Website
GregWells.net

Greg Wells is a multiple Grammy nominated musician, record producer and songwriter [1] based in Los Angeles. Wells has produced and written with Adele, Rufus Wainwright, Katy Perry, Kid Cudi, Weezer, The All American Rejects, LostAlone, Pink,Theophilus London, OneRepublic, Mika, Kelly Clarkson, Nick Littlemore, Pharrell Williams, Otep, Deftones, Aerosmith, Burt Bacharach, Jessie Baylin, Creeper Lagoon, Celine Dion, Crash Test Dummies, Ozzy Osbourne, Elton John, Jars of Clay, and theCount Basie Orchestra.

Career highlights

Adele

co-wrote "One and Only" on Adele's Grammy winning Album Of The Year, 21″.

The Hunger Games: Songs from District 12 and Beyond

album debuted at #1; wrote & produced Kid Cudi's song "The Ruler and The Killer"

Mika

produced and mixed UK artist's debut record Life in Cartoon Motion, sold 6 million albums including international #1 smash "Grace Kelly" which stayed at #1 in UK for 7 weeks, and produced and mixed much of Mika's third album in 2012, "The Origin of Love".

Katy Perry

produced #1 U.S. hit single "Waking Up in Vegas", produced/co-wrote with Perry "Ur So Gay", and produced/co-wrote the standout ballad "Not Like The Movies" performed live by Katy and Greg at the 2011 Grammy Awards. Co-wrote and producer several songs; "Mannequin", "Fingerprints" and "Pearl".

OneRepublic

produced worldwide #1 hit "Apologize". Wells produced the remix by Timbaland and the original version by OneRepublicmaking it one of the most successful selling and charting songs of the decade.[2] "Apologize" has sold in excess of 10 million singles worldwide, and stayed at #1 for eight consecutive weeks on Billboard's Pop 100. "Apologize" is now the second-highest legally downloaded song in US digital history.[3] "Apologize" is number 50 on the definitive list of Billboard's Hot 100 All-Time Songs from the chart's first 50 years, August 1958 through July 2008; achieving this status after it spent 25 consecutive weeks in the top 10.

Celine Dion

co-wrote the hit song "The Reason", working with The Beatles producer Sir George Martin on the 31 million selling album Let's Talk About Love.
Adele – One and only
 
アーティスト / 著者
アデル
会社 / 出版社
Hostess Entertainment
発売日
2011/2/1
アーティスト / 著者
ケイティ・ペリー
会社 / 出版社
Capitol
発売日
2008/5/29