【PPG WaveGenerator for iPad】iPadシンセ登場!写真から音を作れるアプリ 新機能追加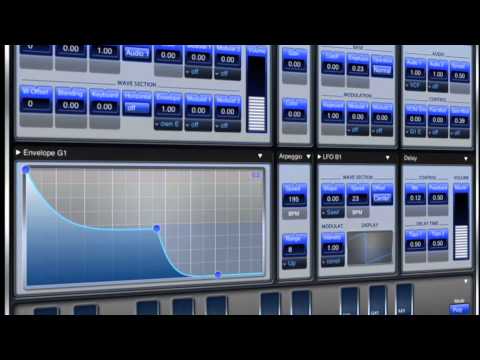 2012 / 12/ 17
バージョン 1.0.3 の新機能
• Audiobus support
• MIDI Voice Per Channel mode
• MIDI mono mode
• MIDI Sustain pedal
• Improved Keyboard Octave Shifting
• Optimization of the audio engine – more voices
2012 / 10 / 17
バージョン 1.0.2 の新機能
• Virtual MIDI in
• Audio mix/ background mode
• Improvements and bug fixes
2012 / 9 / 15
録音機能とオーディオ・コピー機能が追加されました。
バージョン 1.0.1 の新機能
• Audio recorder, up to 10 min. at 44.1 stereo
• Audio Copy to the pasteboard
• File Sharing via iTunes
• Keyboard octave shifting
• More routing possibilitys – enabling ringmod and more
• Updated factory presets
• Bug fixes
2012/ 9 / 5
PPG WaveGenerator iPad App – Show And Tell 2
http://www.youtube.com/watch?v=H7jHQU9PAps
Wolfgang Palm Shares The PPG WaveGenerator App – Show And Tell
http://www.youtube.com/watch?v=YSswLt1rD2U
シンセを弄ることが好きな玄人向けです。
操作は複雑で表現できることも多いです。初心者には難易度が高いと思います。
波形(ウェーブ)やスペクトラム(周波数)を手書き出来ます。
他のシンセアプリには無い機能 → 自分の『写真』から情報を読み取って変換し、音を作ることが可能です。これで予想外の聴いたことが無いような音が作れて楽しいです。
例えば、iPad2,iPad3の内蔵カメラで撮影したAさんの顔写真から音を作ったり、風景写真から音を作ったりするとこが出来ます。
Animoogと比べると、より奇妙で機械的な分厚いシンセサウンドが出せます。iPad1だと音は出るけど若干重いので、iPad2以上での使用をオススメします。
| | |
| --- | --- |
| | WaveGenerator (Version 1.0.2) |
| カテゴリ: | ミュージック |
| 価格: | ¥2,400 |
| デベロッパ名: | PPG – Wolfgang Palm |
| リリース日: | 2012/09/05 |
| 対応デバイス: | iPad 2 Wi-Fi+3G / iPad Wi-Fi+3G / iPad Wi-Fi / iPad 2 Wi-Fi |
| 現Ver.の平均評価: | (無し / 0件の評価) |
| 通算の平均評価: | (4.0 / 7件の評価) |
| Game Center: | 非対応 |

ちなみに 発売当時 250万円 前後で数百台のみ生産されたシンセとのこと
PPG Wave 2.3 ユーザー
David Bowie, Eat-Static, Electronic Dream Planet, The Fixx, Trevor Horn, Jean Michel Jarre, Art of Noise, Rush, Depeche Mode, Gary Numan, Robert Palmer, Psychadelic Furs, Talk Talk, The Cars, Ultravox, Steve Winwood, Rush, Stevie Nicks, Thomas Dolby, Pet Shop Boys, Mike and the Mechanics, and Stevie Wonder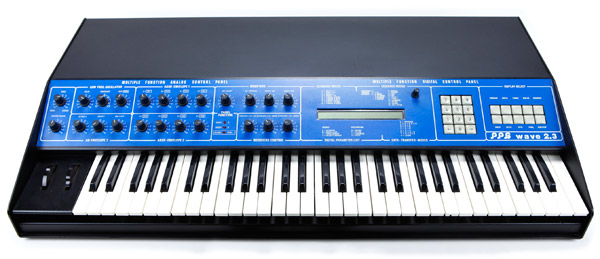 PPG WaveGenerator 対応情報
Akai Professional MPK49
Akai Synthstation49
Emu xmidi 1×1
IK Multimedia iRig
Korg Kronos w/camera connect doesn't work 注意)動かない
Korg Nanokey2 with Apple camera kit
M-Audio Keystation Mini 32
M-Audio Axiom25 w/camera connect
Miditech Midilink Mini (with Camera Connection Kit)
Moon Modular
Novation remote 25sl compact
Tascam US-800 is working. Audio also working but with a workaround
PPG WaveGenerator for iPad デモサウンド

  スペック
PPG WaveGenerator is the latest development from the inventor of wavetable synthesis, Wolfgang Palm. It is a next generation synthesizer, building on the heritage of the PPG Wave keyboards.

The PPG WaveGenerator comes with a multitude of wavetables. The sound material contains the typical sounds from the original PPG wave models, as well as many new sounds generated by versatile analysis tools and also hand edited waves.

This app enables the user, to create his own wavetables in a playful way, and to hear the result immediately. Also you can construct the waves by adding harmonics very precise.

Another way is to transform a picture into a wavetable. You can load photos from your album or even shoot a picture with the camera.

The waves are collected in a grid of 256 fields, to which the 3 oscillators of the synthesizer have arbitrary and independent access.

In a 3D display you get a visual impression on how the sound evolves. You can turn around the 3D object and zoom in and out,

The Parameters of the synthesizer are divided into modules, which allows easy, yet powerful editing.

It contains 3 oscillators with independent control of pitch and waveform. Each oscillator has its own glide, which gives a very dynamic sound.

With a sophisticated routing system, the diverse modulation sources can be connected to all important control points.

The keyboard is configurable totally freely, so you can setup all well-known musical scales, but also all imaginable custom scales that best fit into your music.

PPG WaveGenerator benefits all advantages of the iPad, like X/Y control after the key on event, or two finder gestures for spectrum control. After a key is hit, the tone may be modified and modulated in various ways, just by moving your finger.

A comfortable browser lets you sort the sound programs; you can categorize and rate them. Also complete custom sound banks may be created.

All significant parameters are controllable via MIDI.

There is a built in context specific help for all pages and modules.

Key Features:

•Creation of your own waves and wavetables.
•Playful sound creation simply by drawing or picking harmonics
•3D page, visualization of the wavetables, transformation from photos into wavetables.
•256 waves assembled within a wave grid
•3 Audio Oscillators
•3 Noise generators, for audio and modulations
•Classic 24 dB Lowpass Filter, combined with an overdrive simulation.
•Dual amplifier, for versatile control of 2 audio signals as well as panning.
•13 Envelopes, for independent control of pitch, waveform, filter and noise gain and panning
•4 LFOs
•Arpeggiator
•Delay/Reverb effect
•Audio engine with 2 synthesis modes, and variable wave blending quality.
•Directly accessible context help inside the app
•Use a camera, to shoot a picture and then transform it into a sound!
•Using state of the art technologies, but still the versatile and efficient synthesis system.
•Build your own keyboard, with the keys you prefer for your music.
iPad スクリーンショット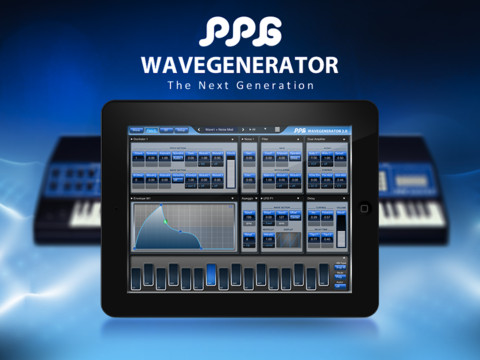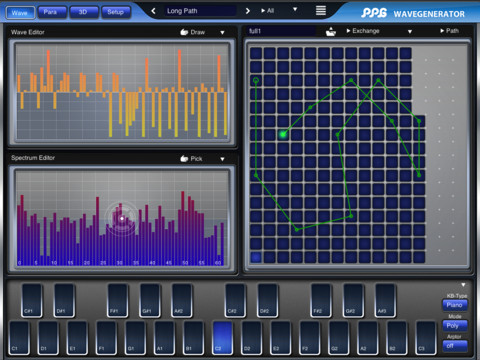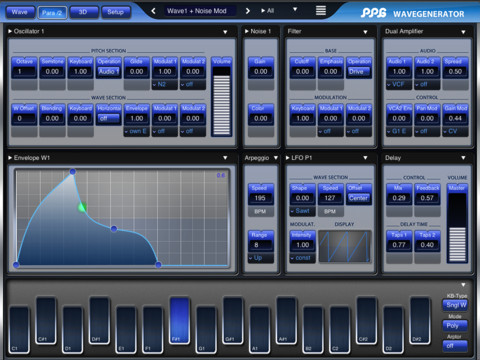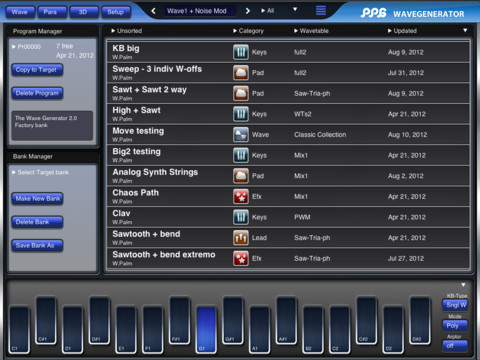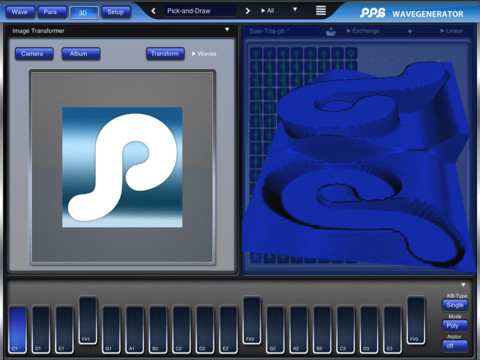 PPG Wavegenerator iPad App From Wolfgang Palm – Sneak Peak.
http://www.youtube.com/watch?v=V1QnLs9uHkA&feature=player_embedded
Wolfgang Palm Caught In The Act Of Testing The PPG Wavegenerator App
http://www.youtube.com/watch?v=q7SH-vJZPhM&feature=channel&list=UL
PPG WaveGenerator Show And Tell 3 Part 1.mov
http://www.youtube.com/watch?v=a5OwLuWt32k&feature=g-u-u
http://www.youtube.com/watch?v=YRm4v3q_xks&feature=g-u-u
 iPad Pro登場!
http://www.apple.com/jp/ipad/
iPad Pro
広大な12.9インチのRetinaディスプレイ / iPad Air 2のほぼ2倍近いCPUパフォーマンス / 洗練されたMulti-Touchテクノロジー
iPad Air 2
Retinaディスプレイ / IPSテクノロジー搭載9.7 インチ(対角)
64ビットアーキテクチャ搭載 / A8XチップとM8モーションコプロセッサ
iPad mini 3
Retinaディスプレイ / IPSテクノロジー搭載7.9インチ(対角)
64ビットアーキテクチャ搭載 / A7チップとM7モーションコプロセッサ
 Apple iPad Air 登場 (第5世代) !
64ビットアーキテクチャ搭載A7チップとM7モーションコプロセッサ
 Apple iPad Retinaディスプレイ (第4世代)
 Apple iPad Mini (第4世代)
Apple iPad 第3世代
Apple iPad 2

Apple 初代 iPad (iOS6非対応)