iPhone/iPad用iOSアプリ【GlitchBreaks】スクエアプッシャー,エイフェックス・ツインのようにサウンドをズタズタに破壊!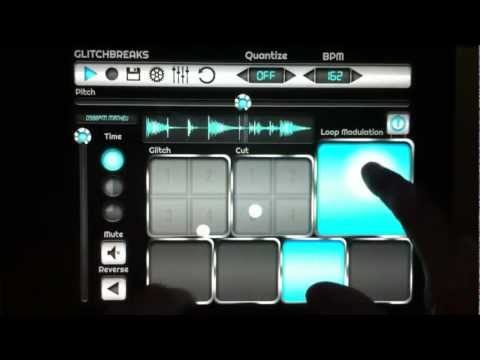 価格: ¥600
2012 / 12 / 13
バージョン 1.11 の新機能
Introducing Audiobus support: Now you can stream live audio from Glitchbreaks directly to other Audiobus-compatible apps! See http://audiob.us for more information.
Load presets now does not stop audio.
Made effects toggles smoother.
2012 / 12 / 3
バージョンアップで新エフェクトと パフォーマンスX/Yパッド機能が付きました。
バージョン 1.1 の新機能
iOS 6 compatability iPhone 5 compatability
New Effects: Delay, Distortion, Ring Mod, Low Pass Filter, Reverb
Effects Assignable to Performance X/Y Pads
2012 / 8 / 21
バックグラウンドでオーディオ・トラックを再生できるようになりました。(4トラック+バックBGM)
バージョン 1.04 の新機能
Bug and Timing Fixes
Added Preset Load and Save functions
Added Background Audio Tracks
Added Snap to Index function
Added option to turn Dynamic Glitch on/off
Added Scale Time Factor option
10 new sounds from Sunsine Audio
10 new sounds from Alex Matheu
2012 / 4 / 25
スクエアプッシャーのようにサウンドをズタズタに破壊できる「グリッチ・ブレイクス」iOSアプリ登場! やばい!  iPhone / iPad 対応のユニバーサル・アプリです。
| | |
| --- | --- |
| | GlitchBreaks (Version 1.36) |
| カテゴリ: | ミュージック |
| 価格: | ¥600 |
| デベロッパ名: | Alex Matheu |
| リリース日: | 2012/04/26 |
| 現Ver.の平均評価: | (無し / 0件の評価) |
| 通算の平均評価: | (4.5 / 15件の評価) |
ちょっとしたTips (バージョン 1.02)
メイン画面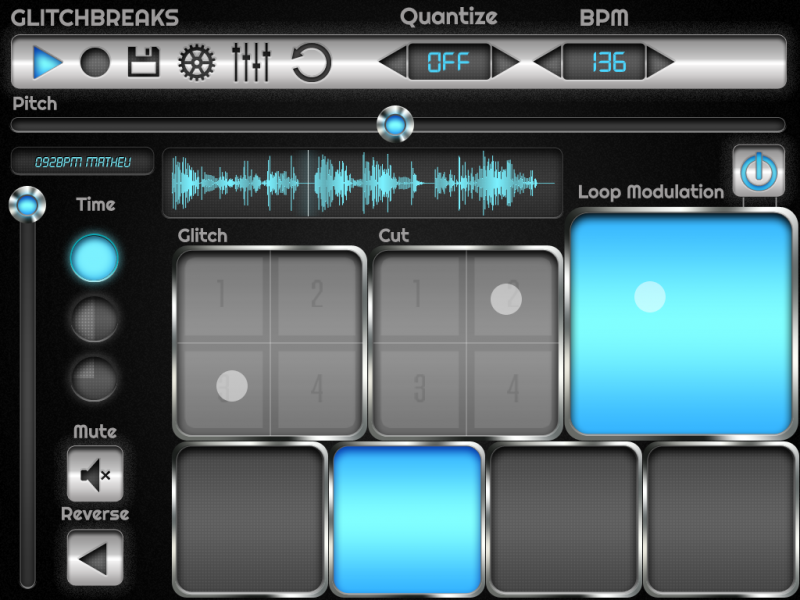 カット・エディター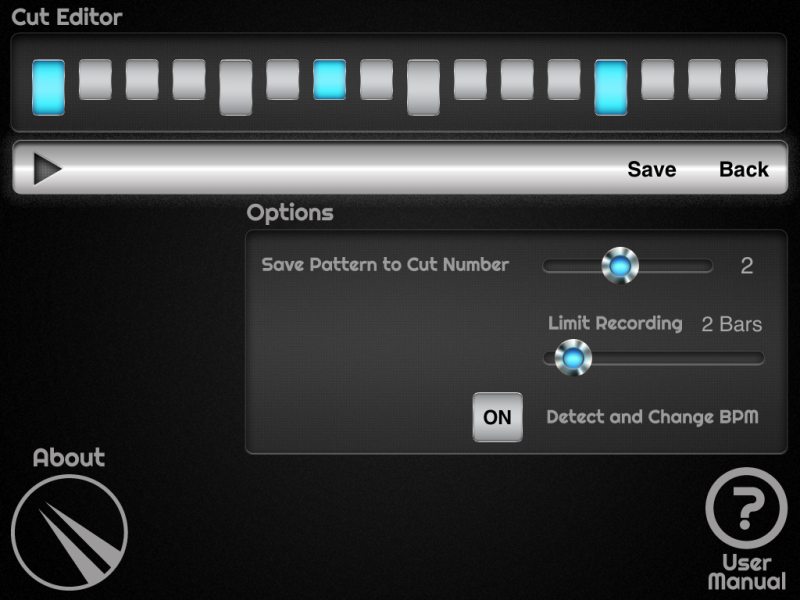 ファイル管理・ブラウザ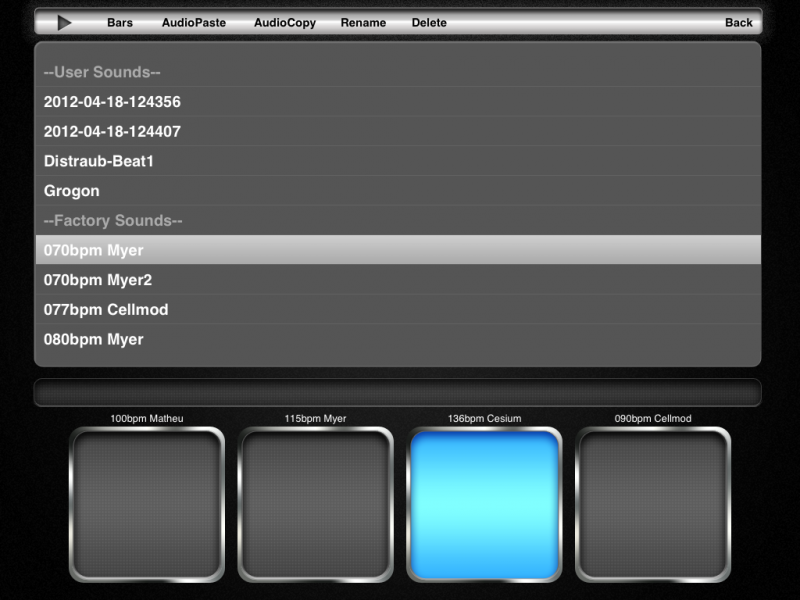 Barsタブから1〜4小節までのBar設定できます。
基本的に1から4小節のループを4つのトラックに読み込んで、ファイル管理画面でBarを設定した後にズタズタにして遊ぶアプリです。
「Loop Modulation」のパッドでループのスタートポイントをズラしたり、サウンドを逆回転(リバース)、グリッチ、ピッチやテンポをリアルタイムで操作することができます。
ミキサーアイコンをタップし、フェーダーを選択すると、選択したパッドを4つ同時にミックス再生することもできます。
プリセットのループ素材は、90個ぐらい付いてきます。(BPM 70 ~ 178)
異なるテンポのBPMファイルでもOption画面に[Loop Mod Latch]などをONにすれば、全体のBPM(画面右上のBPM)に合うので便利です。
Audio Copy /Paste 対応なので、korg iElectribeなどからオーディオデータをコピーして読み込むことができます。
また、iTunesのブラウザからもパソコンの独自のWavファイルを読み込ませることが可能です。
リアルタイムでプレイしたものをWavファイルに録音し、iTunesよりパコソンに移すことこもできますし、そのままアプリ内でのループ素材として活用もできます。
Wavファイルの削除は、パコソンのiTunesからも可能です。アプリから削除する場合はパッドにアサインを外せばできます。
ファイル管理画面で操作を焦って連打するとアプリが落ちることがあるので注意が必要です。
他のiOSアプリからオーディオをコピー、ペーストする際の注意
オーディオコピー/ペーストは、 [Sonoma Pasteboard] タイプ
対応アプリ http://www.sonomawireworks.com/iphone/mapi/
マニュアル 
http://www.glitchbreaks.com/usermanual/
iPad スクリーンショット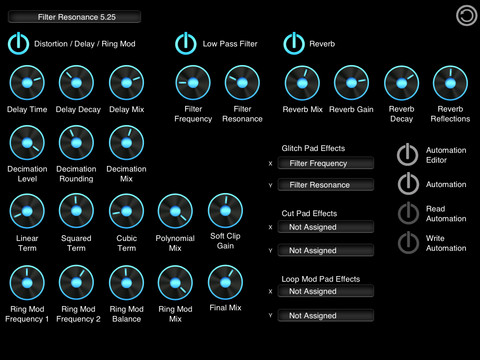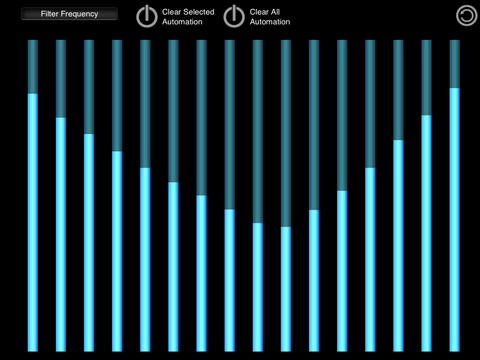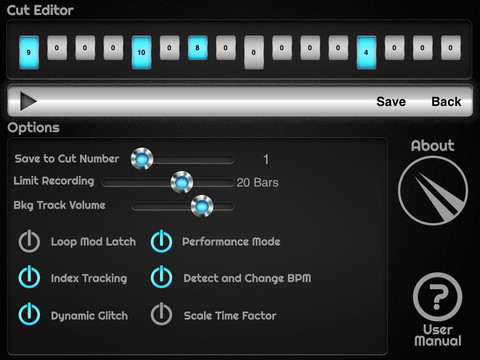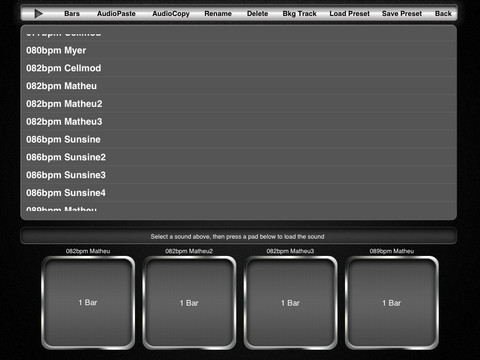 iPhone スクリーンショット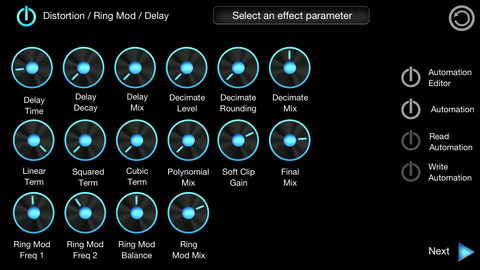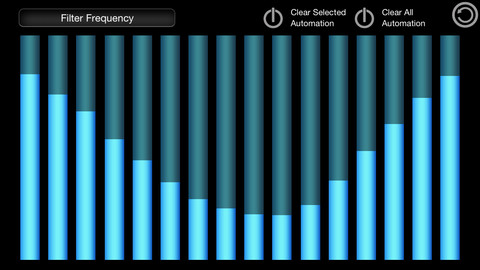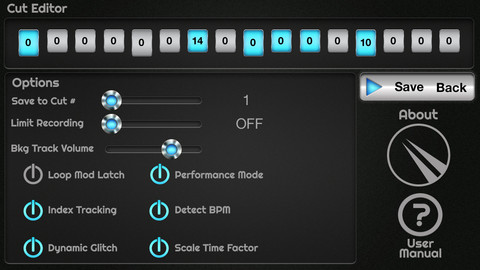 機能

✔高品質のファクトリー・ビートループが90個

✔オーディオのコピーとペーストのサポート

✔4チャンネルミキサー 4連続ループチャネルの設定

✔オートBPM検出  (オン/オフ)

✔ BPMは、元サンプルの2.9倍までUP

✔波形の正確な位置インジケータ(iPadアプリのみ)を表示

✔XYパッドループ・モジュレーション(ループの長さ、ループのスタート)

✔カットエディタ/シーケンサ 4ユーザのセーブスロットを持つ

✔XYパッドスタイル   4グリッチまたは切り取りを選択

✔ピッチシフト

✔ピッチリセット

✔全体、ハーフ、クォーター 独立したTimeの設定

✔カットとグリッチ操作のためのクオンタイズ

✔44.1kHzの16ビットのWAVファイルに録音

✔小節のカスタムレコードの長さを設定

✔iTunesのファイル共有

✔ミュート

✔リバース

✔ミキサービュー チャネルあたりのボリューム·フェーダー。

✔マスターボリューム

✔ユニバーサルアプリケーション

✔新iPadのretina/ iPhone retinaディスプレイをサポート

✔サウンドを停止を押すことなく再生しながらサウンドをロード

Features :

Glitchbreaks is an iOS Universal manipulation tool for "Glitching" breakbeats. Manipulate beats to create new beats and record them.

★ "Glitchbreaks is a sick sample loop glitching app with a groovy interface and nice instant touch control of real time audio. It's capable of seriously twisting sounds out, is one of the most modern audio apps I've seen yet and Ninjas will love it" -Ninja Tune Records
★ GlitchBreaks is an addictively fun and very useful app that will appeal to electronic musicians in a variety of settings. it's a serious tool for manipulating audio loops. – iosmusicandyou.com
★ I've spent many hours playing with Glitch Breaks, cutting, and modulating my way to pure glitch bliss. It's unmistakable high quality, effortless interface makes it easy to forget the world outside and go full tilt boogie to your hearts content. -smitematter.com

Glitchbreaks uses four audio channels setup like mute groups. You can quickly switch between them to construct new beats, or manipulate loop points to "Cut" or "Glitch" the breaks.

Included in the factory sound set are 110 high quality loops hand crafted by Daniel Myer from Haujobb / Architect / Destroid / and more, Juan Espinosa from Cellmod, Isaac Glendening from Cesium 137, Alex Matheu from Negative Format / Distraub / Parallel Project and more, Loopmasters: a high quality sample boutique, and Sunsine Audio.

Glitchbreaks can be used as a performance tool to juggle breaksbeats or destroy sounds at a granular level. You can make interesting effect-like-sounds by manipulating pitch, loop start, length, and cutting the beats with fluid responsive controls.

You can record your performance and bring it into iTunes through file sharing, or copy it out into another iOS application via Audio Copy and Paste. You pre determine the length of your recording by bars to easily make pieces to bring into a song without the need for further sample editing.

Auto-BPM detection will detect the tempo of a sample you copy into Glitchbreaks (you just need to specify the bars between 1-4). You can turn this feature off in order to manipulate audio that doesn't have tempo, this is especially useful for manipulating voice samples.

Glitchbreaks contains a 4 channel mixer to adjust the levels of each sample, as you change the levels the sounds are combined into the mix, on the iPad version this is displayed graphically with a rendered waveform that is combined to give you an indication of what the entire sound looks like.

All of this is very easy to operate and even a beginner will be glitching and juggling breaks like a pro in minutes.

Features :

✔ 130 high quality factory beat loops
✔ Audio Copy and Paste and General Pasteboard support
✔ 4 continuous looping channels with 4 channel mixer
✔ Auto-BPM detection / with on/off setting
✔ Set the BPM up to 2.9 times the original sample BPM
✔ Waveform Display with accurate position indicator (iPad only)
✔ XY-Pad Loop Modulation (Loop Length, Loop Start)
✔ Cut Editor / Sequencer with 4 user save slots
✔ XY-Pads for selecting 4 Glitch or Cut styles
✔ Index Tracking keeps the beat on time
✔ Retrigger pads with quantize
✔ Pitch Shift
✔ Pitch Reset
✔ Independent time settings Whole, Half, Quarter
✔ Quantize for Cut and Glitch operations
✔ Recording to 44.1khz 16bit Wav files
✔ Set custom record length in bars
✔ Background Audio supports mixing with other apps
✔ iTunes File Sharing
✔ Mute
✔ Reverse
✔ Mixer view with volume faders per channel.
✔ Master volume
✔ Universal app
✔ Supports the New iPad retina display / iPhone retina display
✔ Load sounds while playing without hitting stop
✔ Preset Loading and Saving
✔ Background Audio Tracks
✔ Snap to Index

System Requirements and Recommendations
Glitchbreaks requires iOS 5

It is recoomended to run Glitchbreaks on : iPad/iPhone4/iPod Touch 4th Gen higher.