iPhone/iPadアプリ エンベロープを自由に操るシンセサイザー・ベースのドラムマシン「SeekBeats 」 ただいま40%オフのセール中!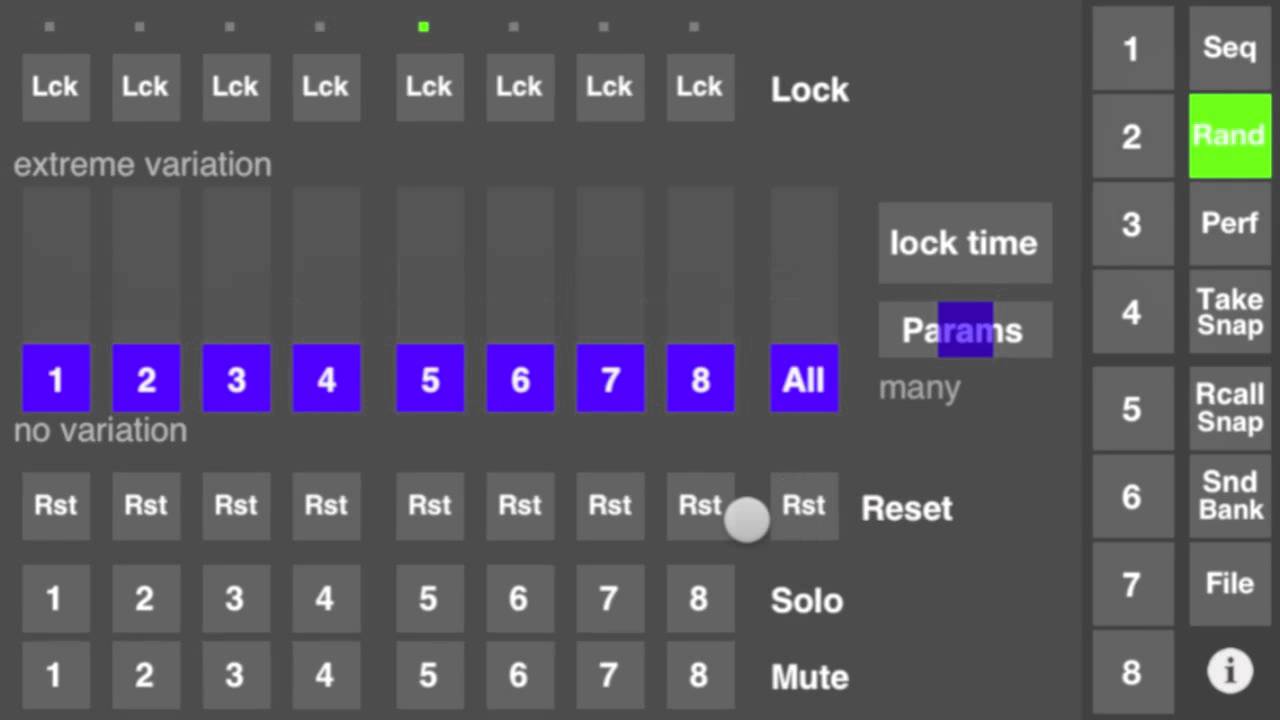 ただいま40%オフのセール中!
エンベロープを自由に操る
シンセサイザー・ベースのドラム・マシン登場!
8ボイス
ステップ・シーケンサー
ランダマイザー
スナップショット
サウンドバンク
Audiobus

/  MIDI Sync対応
| | |
| --- | --- |
| | SeekBeats (Version 1.1) |
| カテゴリ: | ミュージック |
| 価格: | ¥1,400 |
| デベロッパ名: | Rodrigo Yanez |
| リリース日: | 2013/08/27 |
| 現Ver.の平均評価: | (無し / 0件の評価) |
| 通算の平均評価: | (無し / 0件の評価) |
iPhoneスクリーンショット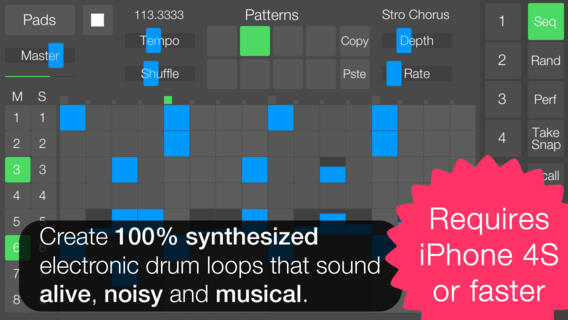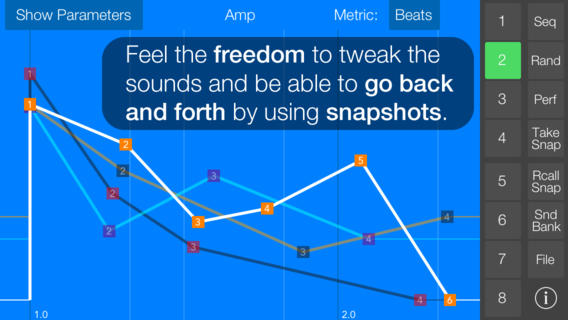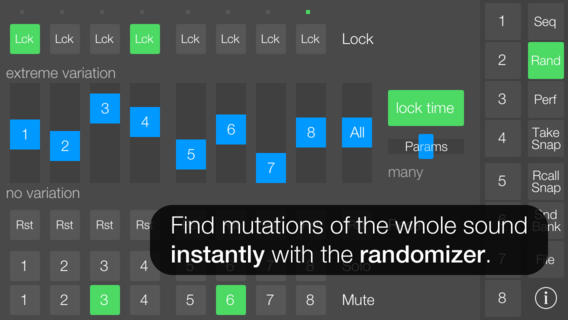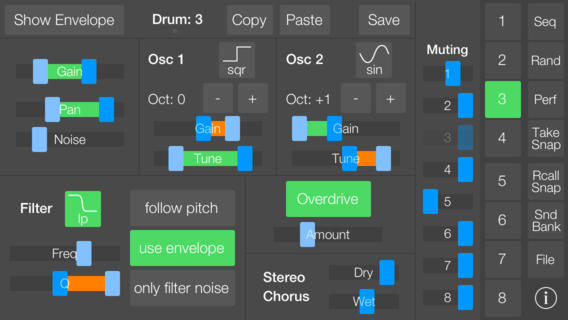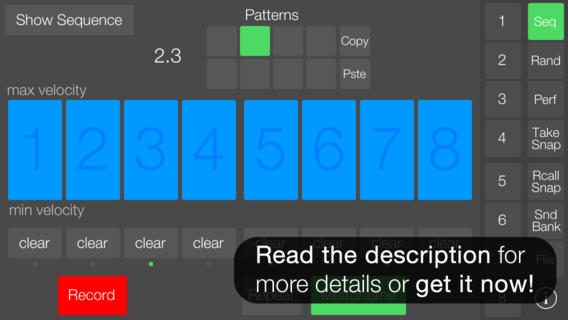 iPadスクリーンショット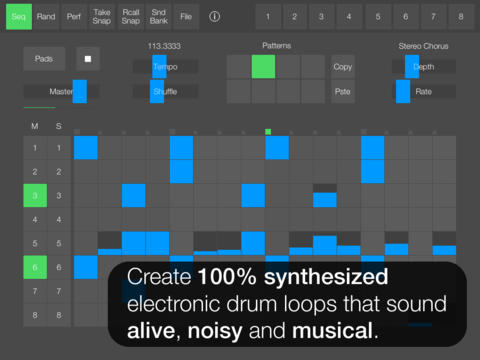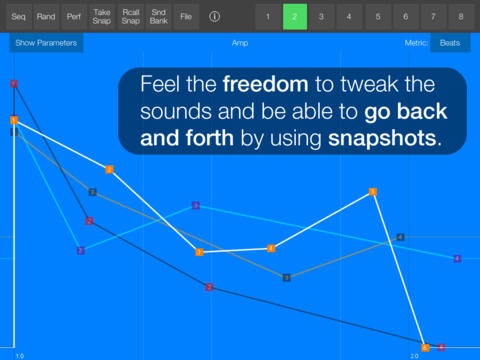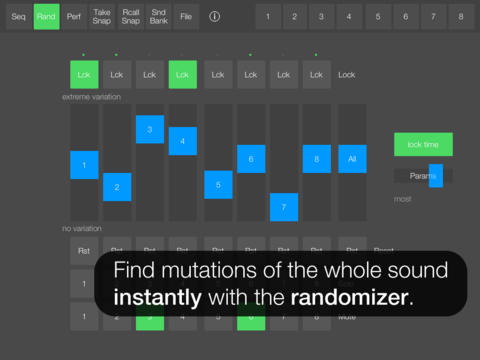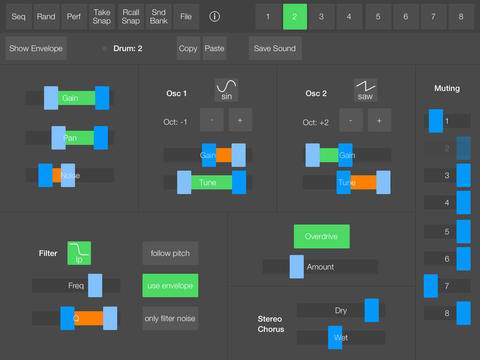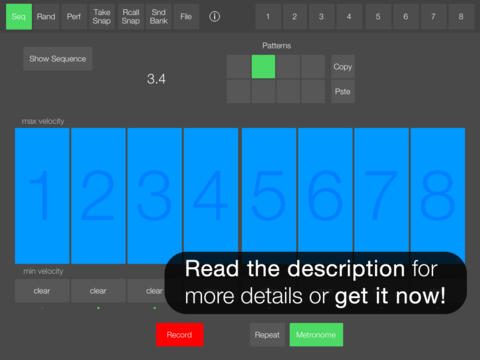 説明

4.5 stars on the U.S. App Store!! (Customer Ratings, All Versions)

PLEASE NOTE: REQUIRES iPhone 4S or faster. iPod Touch 5th generation (4 inch display) or faster. iPad 2 or faster.

Check the support page (rugoso.com/seekbeats) to see a 2 minute video, watch and hear for yourself what's it all about!

——————-

Create 100% synthesized electronic drum loops that sound alive, noisy and musical.

Feel the freedom to tweak the sounds and be able to go back and forth by using snapshots.

Find mutations of the whole sound instantly with one slide of your finger via the randomizer.

————————

SeekBeats has:

• Eight voices, each with different synth parameters and envelopes.

• Step Sequencer, with velocity for each step that can be mapped to different parameters.

• Randomizer: Mutate the whole sound of your drums instantly with the slide of your finger.

• Snapshots: Feel all the freedom to explore with your sound, go back and forth by taking and recalling snapshots. Change the whole sound of your drums with one tap.

• Sound Banks: Load and save your favorite sounds.

• Supports Audiobus.

• MIDI Sync: sync with other apps within the same device, or other devices via WIFI.

————————

Check these App Store reviews!

• "Excellent. I am very impressed … I haven't been so instantly taken with a drum synth in a long time!" – The pantsome menace (Australia)

• "Supremely intelligent… This is really, really smart. It gives you a lot of options for randomizing several parameters in real time, as well as an excellent preset arrangement, and the node system seems very well thought out" – Twirling Erling (Canada)

• "If my current drum synth is a Cadillac, SeekBeats is a Bentley. It is so good, I'm making SeekBeats my new go-to drum synth/sequencer … I am actually having a difficult time putting it down. Instantly addicting in a good way." – rG3P0 (USA)

• "Absolutely awesome and inspiring – This app is hands down the best and most inspiring beat making app for iOS… You'll come up with beats and experiment with different sounds in seconds. Love it!" – fiskenuno (Sweden)

• "This is the best iOS drum synth I've tried yet. It just sounds great. I'm hooked!" – Hypnosapien (USA)

————————

If you were thinking about getting a similar hardware drum machine, it would probably cost you hundreds of dollars, SeekBeats is just 7.99 dollars (USA).

Get it now!