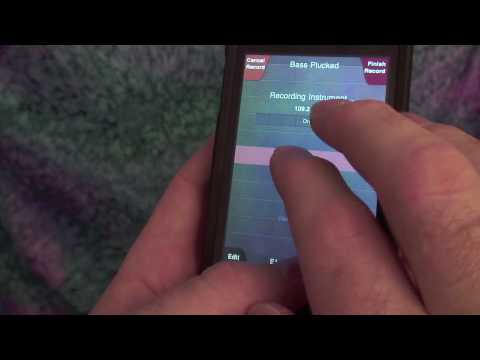 ピアノ、ギター、ローズエレピ、ベース、チェロ、ストリングス、ドラムキットなど30を超える音源
コードやスケールが音源ごとにセットされているので、ピアノや楽器が弾けないない人でも適当に弾くだけでジャムセッションができるアプリです。
Sonoma Wire Works オーディオ・コピー/ペースト
Core MIDI 、オーディオ・エクスポート対応
ユーザが作った膨大な音源やループをアプリ内の「Download Samples」より無料ダウンロードも可能
| | |
| --- | --- |
| | ThumbJam (Version 2.3) |
| カテゴリ: | ミュージック |
| 価格: | ¥1,080 |
| デベロッパ名: | Sonosaurus LLC |
| リリース日: | 2009/12/15 |
| 現Ver.の平均評価: | (4.5 / 6件の評価) |
| 通算の平均評価: | (4.5 / 53件の評価) |
iPadスクリーンショット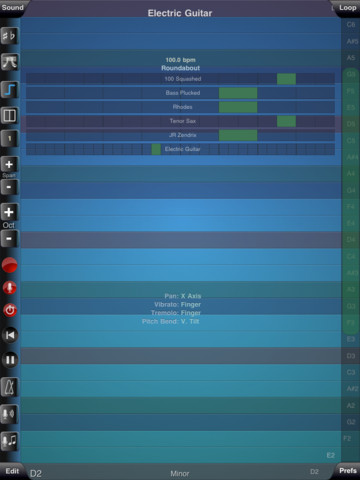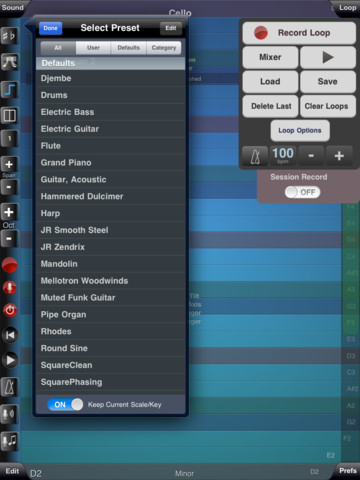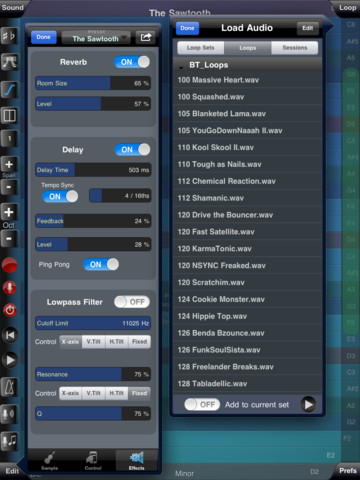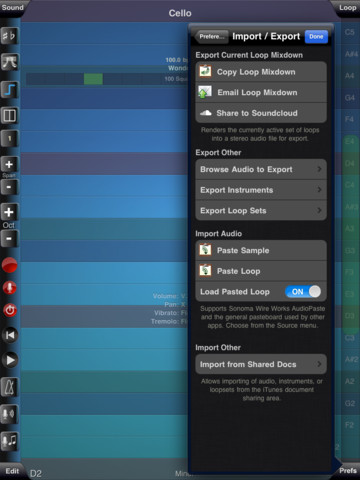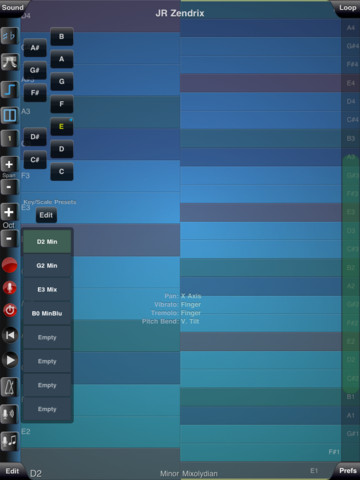 iPhoneスクリーンショット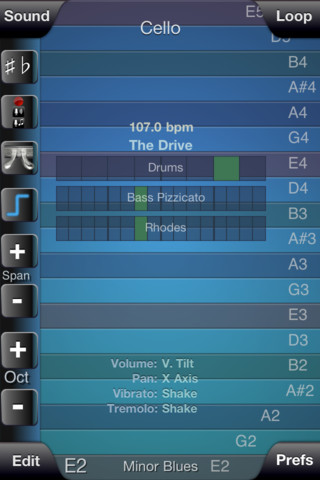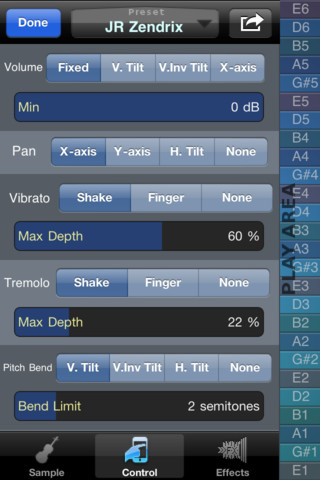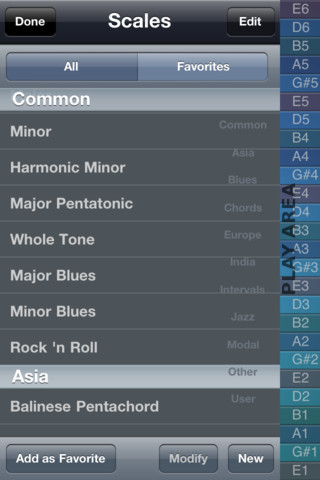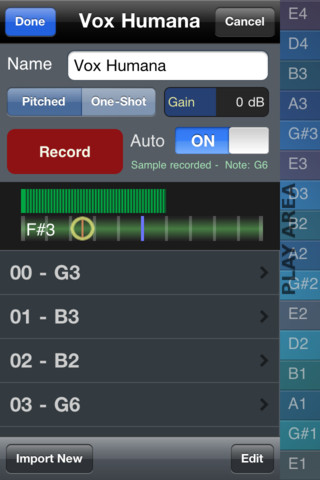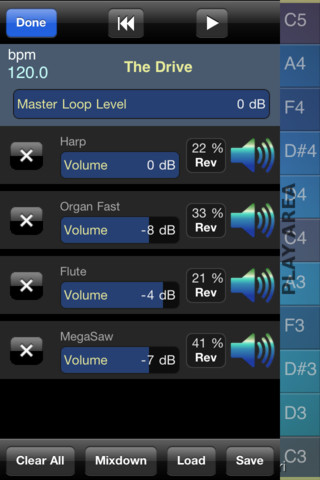 ThumbJam is a powerful musical performance experience. You get over 30 high-quality real instruments multi-sampled exclusively for this app. Hundreds of included scales allow you to effortlessly play in any style from rock to classical, whether you are a musical novice or a seasoned professional.

—====—
Jordan Rudess, the world-renowned keyboardist for Dream Theater says:

"ThumbJam stands at the very top of the overcrowded music app world. The sounds included absolutely rival those found in pro instruments and making music on the app is a total joy. The only problem I have with this app is that I did not make it myself! Luckily, I'm able to work with the developer and offer a few good feature ideas as well as some choice sounds from my personal collection!"

Two signature sounds from Jordan are featured in the application!

—======—-

Even if you've only played air guitar, ThumbJam lets you sound like a pro. Pick an instrument and jam — with all the scales to choose from you'll never hit a wrong note. The high quality instrument samples will make you sound like you just skipped years of music lessons.

For the performing musician, this app is awesome for soloing on an instrument you didn't bring along. Play in any key, any style — go from a string ensemble to a wailing guitar. ThumbJam was developed and tested by musicians to feel and sound like a real instrument. You'll be surprised at how expressive it can be, make sure to check out the videos and audio at thumbjam.com.

ThumbJam makes use of tilt and shake to add vibrato, tremolo, note bends, and volume swells for more realistic and expressive results. It supports up to five (eleven on iPad) simultaneous touches and up to 24 voice polyphony. Delay and stereo reverb add depth to the sound, and a resonant lowpass filter gives you more tone shaping power. Put on your headphones or plug in to your home stereo to experience some of the highest quality instruments in the App Store.

Build your own loops from the ground up or import your favorites and jam from there. Layer as many loops as you want, with different instruments for each. Export your loops as audio files or Ardour DAW sessions via WiFi. Copy and paste audio from other apps using Sonoma Wire Works AudioCopy/Paste as well the general pasteboard used by BeatMaker, via email, iTunes Document Sharing, or open directly in another application.

Want to jam with your friends? ThumbJam lets you broadcast tempo, key, and scale to other nearby devices via Bluetooth so you can be in sync live. Even better, you can use it as a MIDI or OSC controller over WiFi, with any CoreMidi compatible device, Akai Synthstation, or Line6 MidiMobilizer to control software instruments on your computer, other apps on the same iOS device with virtual MIDI, or play ThumbJam with other hardware or software MIDI controllers or apps!

The app includes a huge variety of scales, from western to eastern. Save your favorites for quick access, or create your own in-app. You can even import new scales in the Scala format for complete flexibility.

You can also record your own instruments using a built-in or attached microphone, or from file import.

Included instruments:

+ Cello, Violin, Viola
+ Upright Bass (plucked and bowed)
+ Several drumkits
+ Darabukka
+ Djembe
+ Electric Guitar
+ Electric Bass
+ Trumpet
+ Trombone
+ Tenor Sax
+ Flute
+ Low Whistle
+ Acoustic Guitar
+ Hammered Dulcimer
+ Mandolin
+ Cittern
+ Grand Piano
+ Drawbar Organ (2 types)
+ Rhodes
+ Pipe Organ
+ Synth Strings
+ Synth Choir
+ Theremin
+ Sawtooth Waveform
+ Sine Waveform
+ Triangle Waveform
And from Jordan Rudess:
+ JR Zendrix
+ JR Smooth Steel

Many more for immediate free download in the app including several drumkits, Mellotron instruments, slap bass and more! New instruments posted regularly.
バージョン 2.1.1 の新機能

v 2.1.1 fixes some late-breaking issues in the v 2.1 update related to looping, and a few other small items:

– fixed loop loading and playback freeze issues
– voiceover play area properly activates now
– fixed hung notes when using MIDI input with scale lock and you change key/scale, and when using simultaneous instruments on different channels
– updates loop display when deleting loops while stopped
– updated graphics for retina iPad

Please remember to send any feedback to support@thumbjam.com or the forums at thumbjam.com. We like to help out our users, but have no ability to respond to App Store reviews. Also, don't forget to update your App Store review with the latest version number!

— v 2.1 Changes

This release improves MIDI support, export options, VoiceOver accessibility, and fixes several bugs.

New Features:

• Allows background recording, when TJ is being controlled by other MIDI-enable software or hardware, records both the generated audio and the incoming MIDI.
• MIDI Thru mode option (translates scale lock mode if enabled)
• Added Instrument Mute option which silences instrument audio output (Sound->Volume), useful when using ThumbJam as a MIDI controller
• MIDI file export of active loops with 'Open In' in another app, or via email. Now puts all loops into a single Type 1 MIDI file, one track per loop.
• Now responds to MIDI bank and program change messages, to change the loaded instrument, or quick key/scale slot (see manual for details)
• Export/Import of user presets added (for backup purposes), accessible via Wifi Transfer interface
• VoiceOver support improved dramatically: on iOS5 you can now play the instrument on the main play area without switching out of VoiceOver mode. Sliders are now more accessible, properly announcing their name and value, as well as being swipe adjustable.
• Split multi-instrument presets can now be saved
• Can now specify category for user-created instruments
• Added options parameter to specify the concert A reference tuning in Hz

Bugfixes:

• Fixed 'button-of-death' that unexpectedly deleted all user data
• Fixed issues with stereo instrument samples
• Fixed custom scale saving issues
• Fixed voice stealing when sustained
• Fixed various MIDI event sending buglets
• Fixed occasional loss of downloaded instruments
• Fixed issues with saving the MIDI files
• Fixed issues when other apps change the samplerate, was causing loops/instruments to be out of tune
• Fixed crash with voiceover use on iPad
• and more….