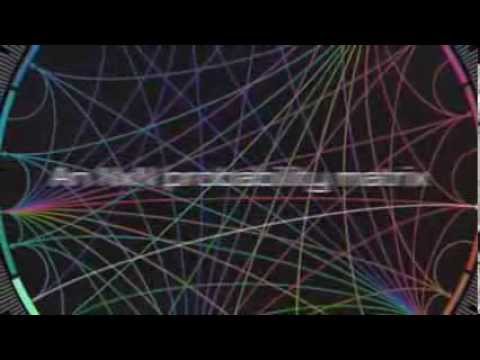 ただいまセール中!
価格: ¥1,080→840円
¥2,400→2,000円
サンプルをスライスするシーケンサー・アプリ登場!
"音楽的に"グリッチする感覚に近い面白いパターン作製アプリです。
3つのプロセス
[MAP] Markov-chain matrix
[SEQ] Pattern sequencer
[WRP] Time-warping 
[MAP] マトリックス

[SEQ] サンプルをスライスして、ステップ・シーケンサーに打ち込み。ランダマイズ・パターンも有り
[WRP]スタッター、スピード・アップやスピード・ダウン、リバース、Ping-Pongなど
他のアプリから「OPEN IN」を使ってサンプルを読み込み可能
Audiobus

 、Inter-App Audio対応
| | |
| --- | --- |
| | SECTOR (Version 0.9) |
| カテゴリ: | ミュージック |
| 価格: | ¥1,080 |
| デベロッパ名: | Kymatica (Jonatan Liljedahl) |
| リリース日: | 2014/02/18 |
| 現Ver.の平均評価: | (無し / 0件の評価) |
| 通算の平均評価: | (無し / 0件の評価) |
iPad スクリーンショット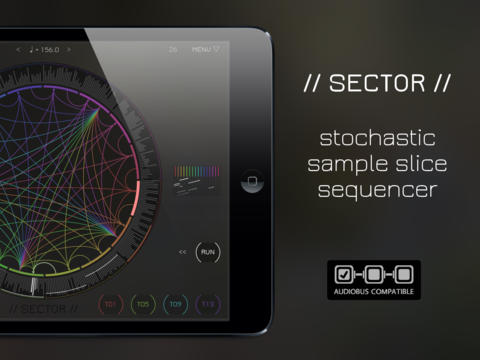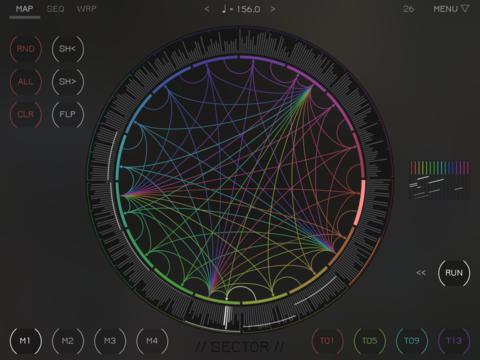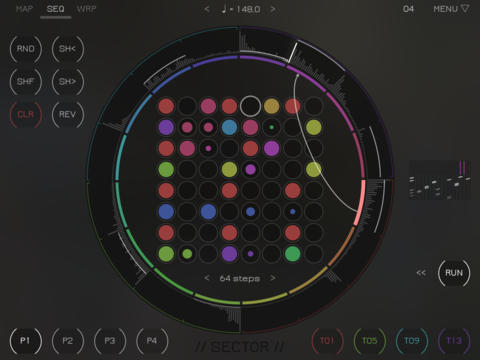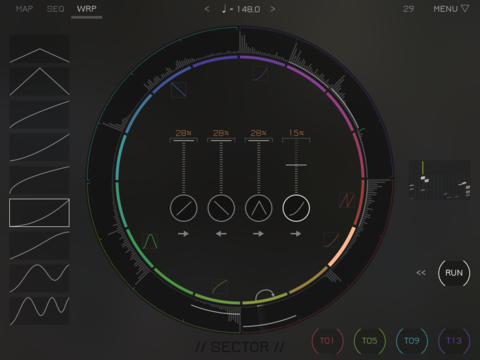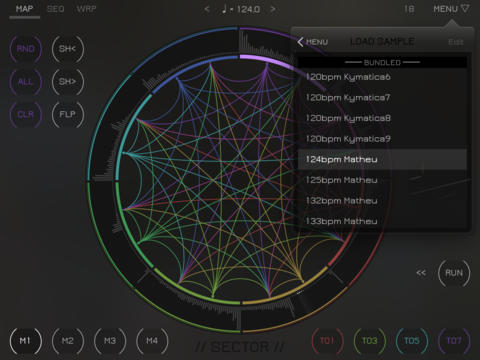 説明

Slice and sequence your loops with a network of markov-chain connections. Introduce order with the probability-based coin-flipping pattern sequencer. Bend time with warp functions for glitches and modulations. Tweak and trigger in real time performance. Get anything between rigid control and random chaos.

INTRODUCTORY PRICE FOR A LIMITED TIME ONLY

• High quality 32-bit audio engine
• Stream audio to other apps in Audiobus or Inter-App Audio
• Import samples and loops from AudioShare or using "Open in" from other apps

Users guide: http://kymatica.com/sector/manual

Coming in next update:
• MIDI clock sync
• In-app recording and exporting of loops

Please contact me for questions and feature requests. Do not use reviews for communication, I can't reply there!
 iOSアプリ間のオーディオ連携